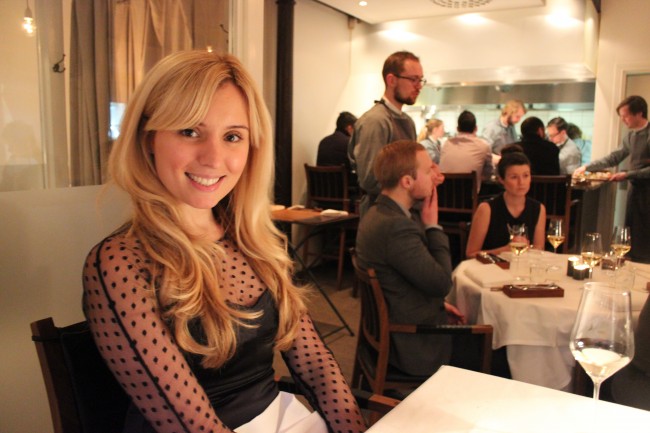 My husband and I spent a snowy weekend in the Swedish capital of Stockholm, where we enjoyed a memorable meal at 2-Michelin starred Restaurant Frantzén. Located on scenic Lilla Nygatan in the historic Gamla Stan district, Frantzén impressed us from the moment we were met by the dapper doorman standing outside the restaurant. We opted to do the "early supper," which allowed us to take our time and enjoy what turned out to be a true gastronomic journey.
Led by chef Björn Frantzén, the cuisine can best be described as "modern Scandinavian," however, it's more than that and the dishes touch on different influences from around the world, including, most notably, Asian cooking. Although there is no disputing the food is innovative and top notch, what got my attention was the impeccable service and elegant, yet comfortable, ambience, all delivered with the epitome of class, minus any sort of stuffiness. There was an edge to the place that you usually don't find in restaurants of this caliber. Frantzén is currently ranked an impressive #12 in the world, but it would not surprise me if a coveted 3rd star and a few spots up the ranking is right around the corner.
In keeping with the exclusive feel, the dining room is small and we were treated to a view of the open kitchen, bustling with a charismatic team of young, first-class chefs. It's the kind of place where there are no "bad" tables, however, I was convinced our 2-top next to the front window was the best in the house 😉 Although dimly lit, each table was adorned with a sleek lamp leaning over the center, allowing us to clearly view the culinary greatness on each and every plate – and greatness it was. A series of stacked cutlery sets further emphasized they meant business. We opted to do the pairings, which consisted of 4 different varieties of wine – 2 whites, a red and a dessert wine.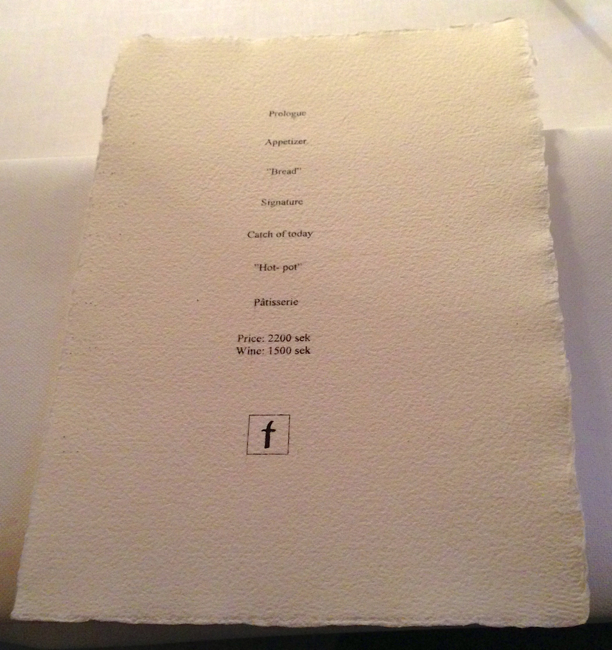 A few minutes into our cocktail we were handed a mysterious card that read more like a script than a restaurant menu. It's often said that a proper fine dining experience should feel like a visit to the theater, complete with a roller-coaster of emotions and unexpected twists and turns. Frantzén achieves this, in its own understated, stylish way.
The journey began with the "Prologue," a plate of 5 colorful, unique canapés.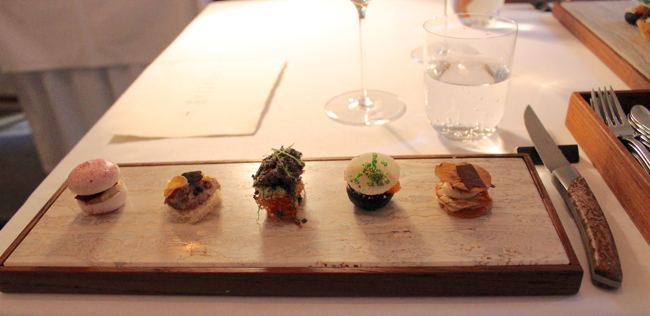 Starting with the right-hand side of the photo, a mille-feuille of celeriac, truffle and chestnut; a blood and liver pancake with roe; a deconstructed "vichyssoise" with crispy potato, ash and black truffle; confit of pigs head on crispy pork skin; and lastly, a galanga root macaron with foie gras. Each was full of flavor and a real teaser for the rest of the meal. I personally loved the 2 plays on dessert, including a light-as-air macaron that easily could have passed as raspberry-vanilla and a mini mille-feuille pretty enough for the window of a Paris pâtisserie, yet boasting distinctly savoury flavors. The "vichyssoise" bite complete with the earthiness of the truffle was heavenly!
Next up were the appetizers…
First, Frantzén's famous oyster "45 min" with fir tree oil, cream, walnuts and frozen lingonberries. One stunning, juicy bite made all the better by a dash of cream.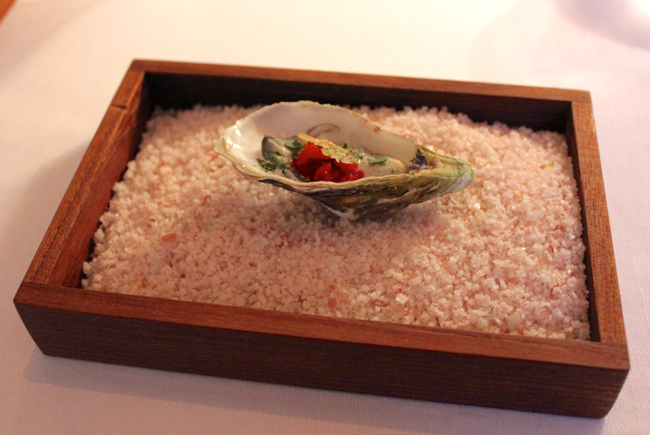 Then, king crab's leg poached in beer and chili. The beer was in the form of a thick jelly, and the smell of dill added freshness. The crab was incredibly tender and moist, with just enough richness from the accompaniments. We were told the inspiration for this dish came from Swedish summer nights. A divine concept and one that makes me want to come back in a few months to experience the real thing.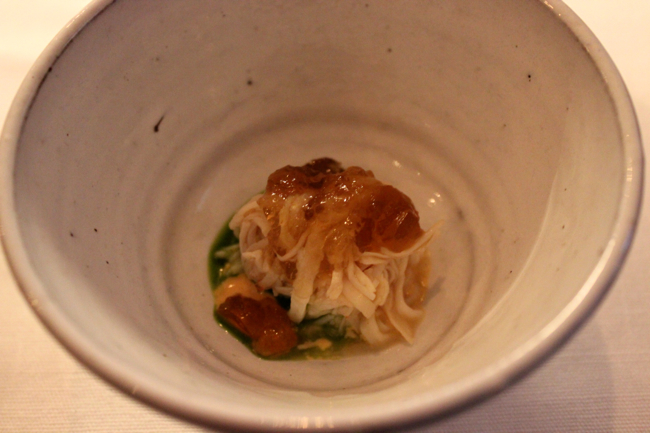 Next up we had horse tataki with lichens and grated frozen liver. Horse is something you don't see very often on restaurant menus (at least outside of Sweden) and I'd describe it as a lean meat that tastes a bit like venison. For this dish, the horse was lightly seared and marinated in true tataki style. The crisp lichens (a sort of leaf-like plant) added bite and texture and a pinch of creamy sauce tied it all together. This was an earthy and hearty bite.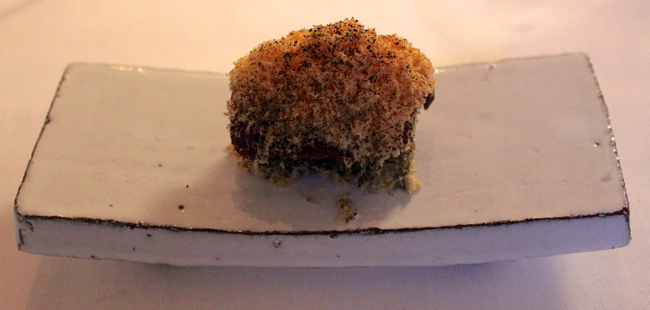 Continuing on with the appetizers was bone marrow with caviar, smoked parsley and crème fraîche. This was supremely rich and decadent. The marrow tasted like butter and the scoop of caviar reinforced the indulgent tone of the dish.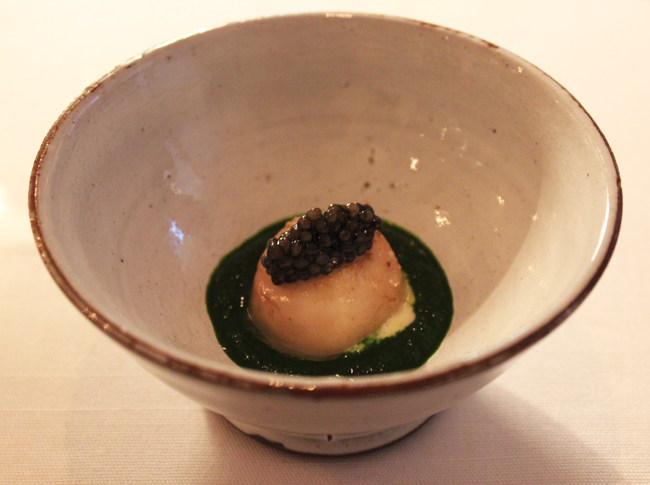 We then moved on to the  next course, "bread", which was in the form of a soup made of fermented rye with soured milk and smoked bacon fat. This was a highlight for me. The soup was full of so many different dimensions and in my opinion deserves a higher title than "soup." I loved the rich, smoky smell coming from the bacon fat, it amazingly reminded me of my favorite Cire Trudon candle.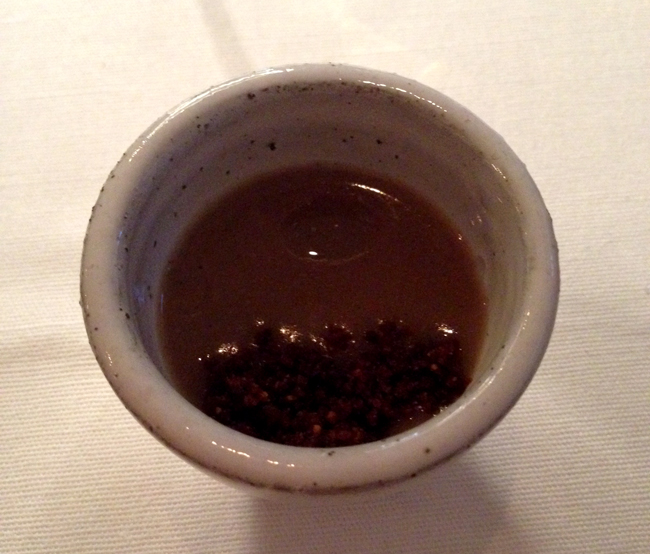 In preparation for our "Signature" course, the chef presented us with 3 ingredients that he subsequently left at our table: goose egg sabayon, dried scallop coral and a whole winter truffle. It was really hard not to just dig in right away. But we waited…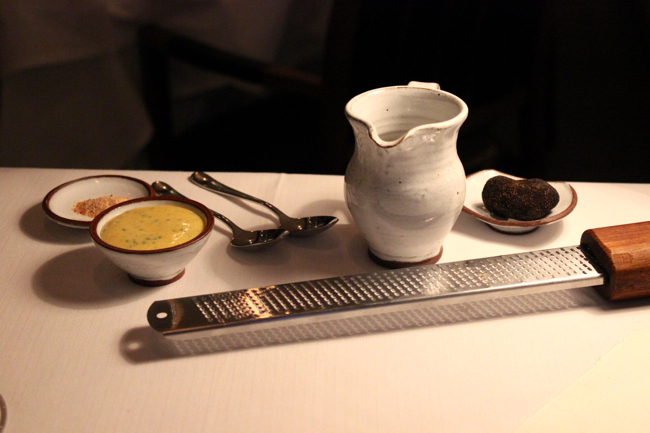 Soon after, we were served a scallop in a beautiful shell, complete with the cooking juices. Our waiter then added the 3 ingredients on our table to the top of the scallop, finishing with a generous grating of winter truffle. The scallop was cooked to perfection and the rich sauce and truffle tasted absolutely delicious together. Immediately after we took our last bite, the waiter came over with more stock and poured it into the empty shell so we could enjoy all of the delightful flavors down to the last drop. A brilliant and creative course that was one of most memorable dishes of the night.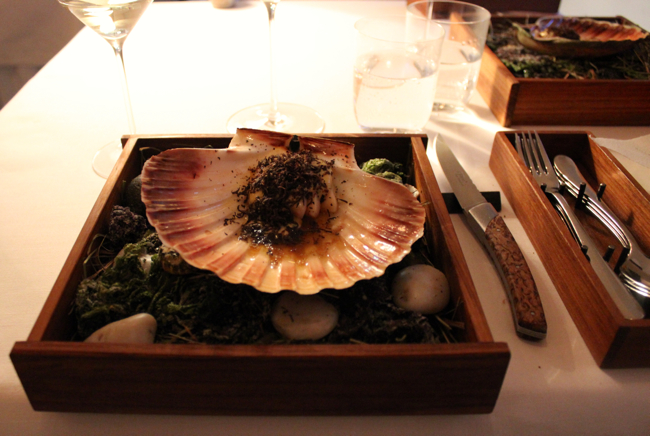 Our chefs then showed us a vibrant house made herb butter that was to be used on a future course, along with a description detailing the inspiration for the dish.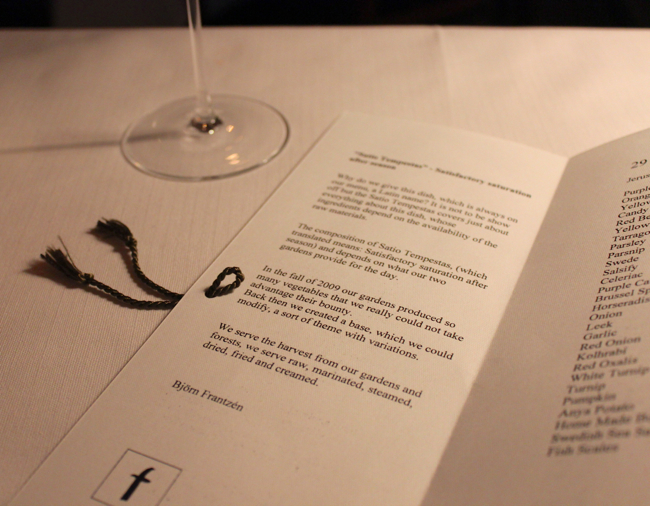 In the meantime, we enjoyed a hearty and warming bowl of jerusalem artichokes with fermented beans and chicken skin.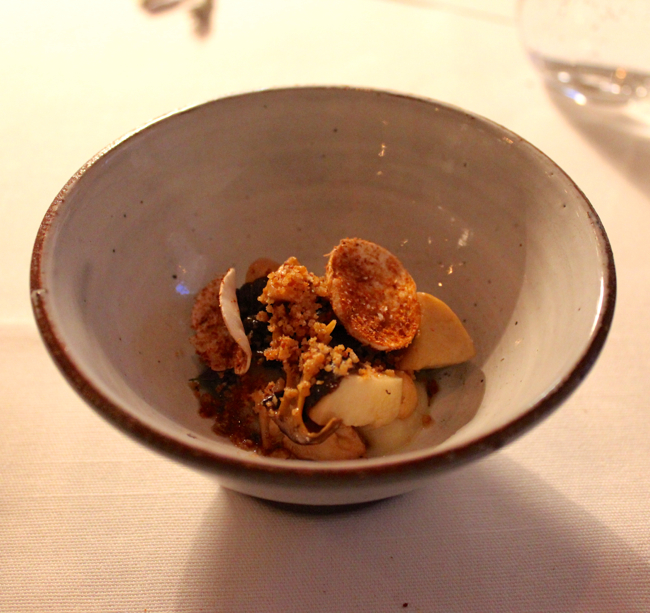 The chefs then melted the herb butter we saw earlier, which was subsequently drizzled on to the next course of satio tempestas, a vibrant and colorful salad full of different textures and flavors and made with an impressive 43 ingredients. A list of the 43 ingredients was included as well. I love vegetables so I was delighted with this dish, but I am confident even veg-haters would swoon over it as well.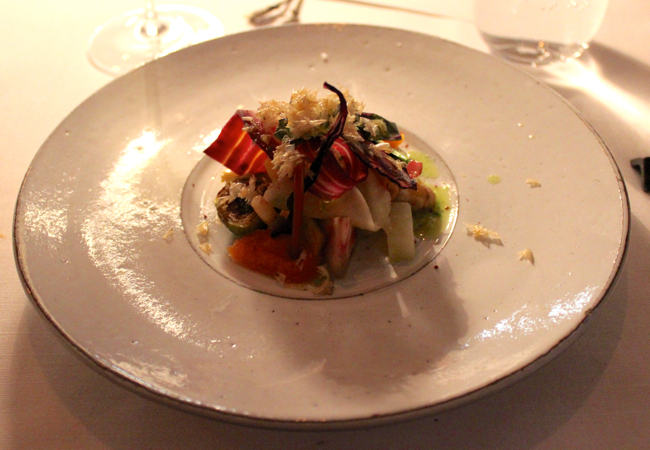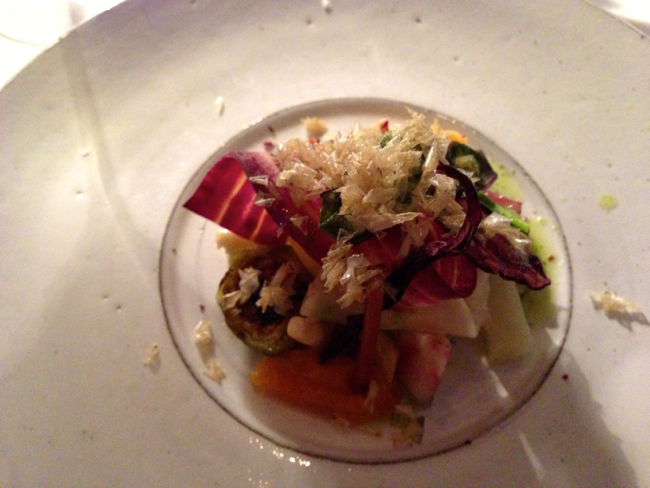 It was now time for the "catch of the day," which was Skrei Cod with caramelized onions, dried juniper and marjoram. I know I keep saying it, but this was also one of my favorite dishes of the night. The cod was light and fresh and the onions were delicious. The sauce was creamy and well seasoned. Somehow they managed to elevate cod from a common, plain fish to something extraordinary. A stunning and beautifully presented dish.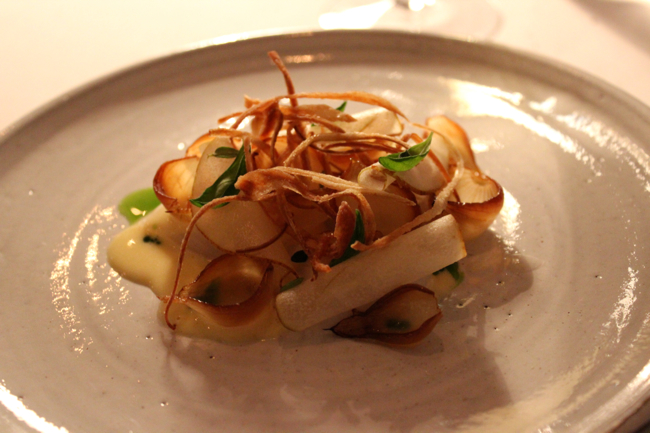 Then, we moved on to the hot pot, which that night included beef, cabbage and truffle. The rich broth was sensational and the cabbage tasted more like crispy kale. The beef was displayed delicately and very juicy.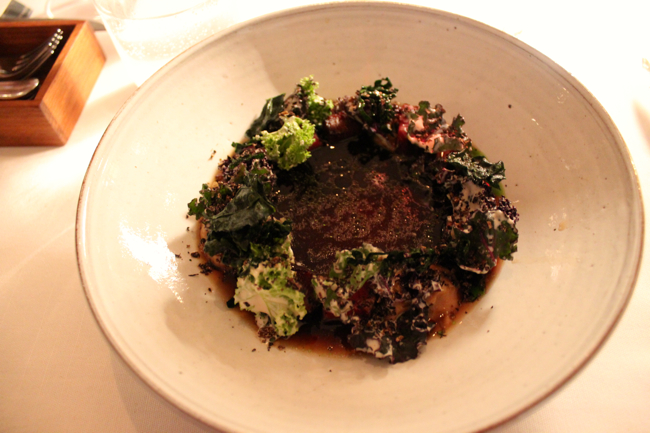 Being the dessert-lover that I am, I was obviously excited for the pâtisserie course. The pastry chef explained to us that they wanted the first dessert course to be a smooth transition from the previous savory course, which was best achieved by not making the dessert too sweet.
We were served a buckwheat ice cream with buckwheat honey, chestnut and spices. This dessert brought us back to December and felt like I was roaming the Christmas markets in Europe, bundled up from the cold, and enjoying the smell of freshly baked gingerbread and flowing mulled wine. The ice cream was so creamy it was more like a semifreddo. Brilliant.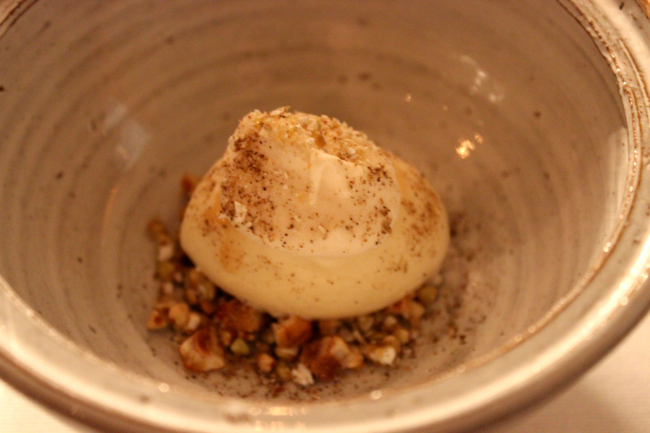 As if it couldn't get better, the next sweet course consisted of dried beetroots and blackberry marmalade drizzled with 100 year old vinegar. Sweeter than the last course, the beetroot was miraculously transformed to a full-on dessert and the creamy "custard" was to-die-for. The pastry chef explained they pick the beetroots from their own garden for this dish. It tasted so special, it felt like they controlled the beetroot from its birth, planning out its every move until it finally appeared on our plates.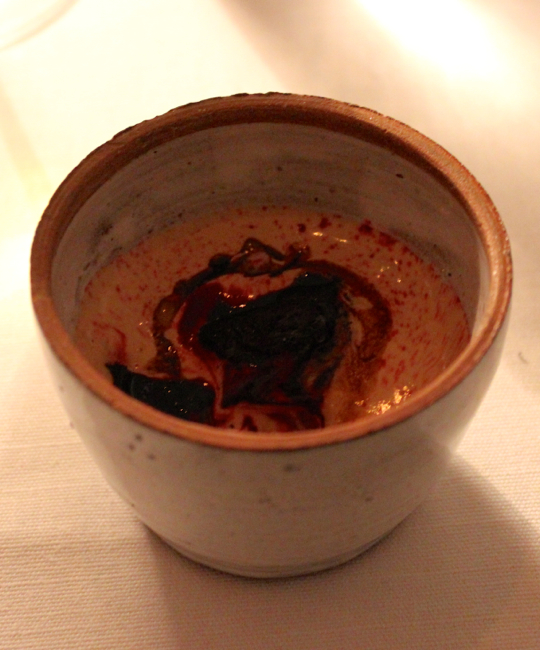 For petit-fours we enjoyed black garlic fudge and pine fudge. There was nothing ordinary about this fudge. The garlic fudge was completely removed of any overwhelming garlic taste and smell and only left with the delicious part. The pine fudge was wonderfully earthy, fragrant and refreshing.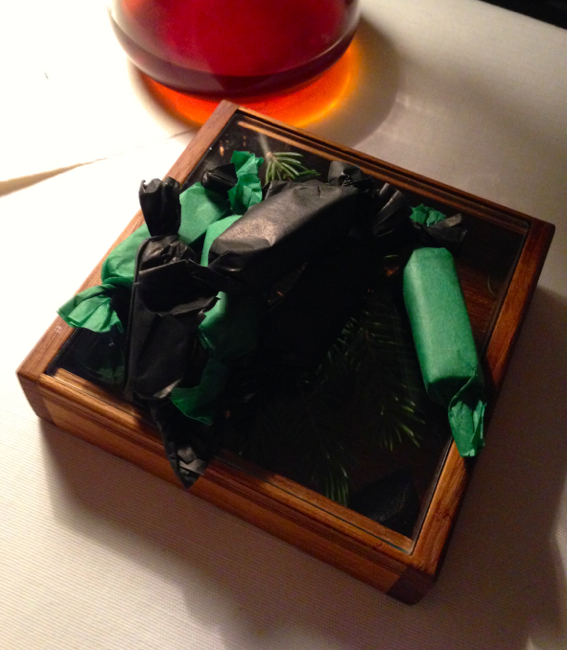 My husband and I have done our fair share of dining at the world's best restaurants (Mugaritz, Arzak, Eleven Madison Park, Fat Duck, etc.), and it's safe to say our experience at Frantzén ranks right up there with the best of them. For the first time after a normally exhausting 3+ hour meal, we weren't ready to leave. We were so smitten with the place we asked one of our waiters for a recommendation on where to continue on with drinks after. As if the service could not get better,  our waiter not only suggested a fantastic place, but ran across the street before us to give the bar a heads up we were coming.
Frantzén is first class establishment and one I'd wholeheartedly recommended to anyone visiting Stockholm. It ticks all of the boxes of restaurants of its stature, with the added bonus of being undeniably cool.
Restaurant Frantzén
www.restaurantfrantzen.com
Lilla Nygatan 21
111 28 Stockholm, Sweden
+46 8 20 85 80