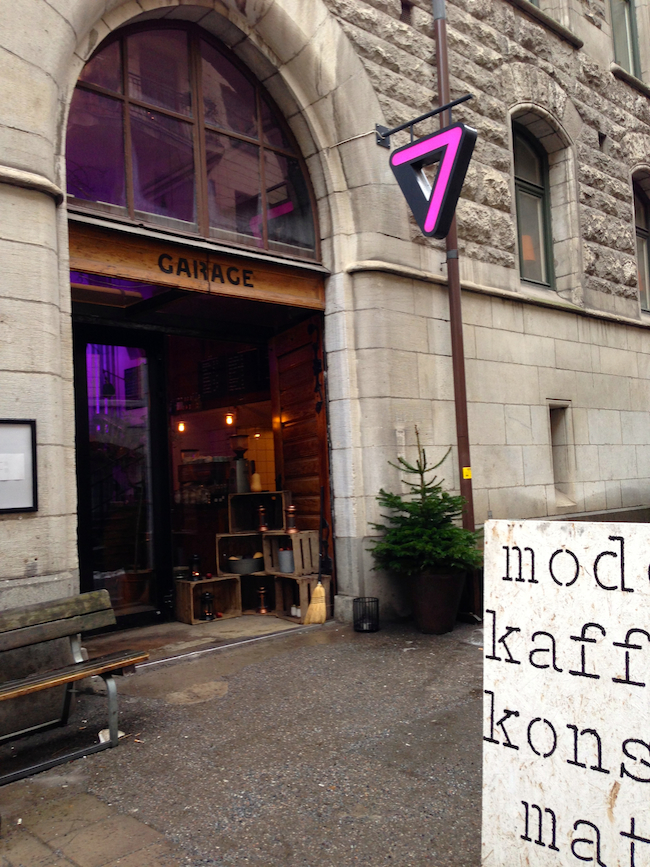 On my first day in Stockholm, I quickly learned the café culture is huge part of life for people living in the city. We visited a few very good coffee shops during our visit, with one in particular really standing out and that was Snickarbacken 7. This hip little café rivalled some of my favourite spots in NYC's East Village (this is a huge compliment coming from a 7+ year east village former resident), so I am excited to share some snaps and tell you more about it. It's located on a tiny side street in the city centre and is in fact not only a café, but an exhibition space and a concept store all in one. It has this cool purple lighting and lot of funky furniture and cutting-edge decor. The idea of a restaurant-store-gallery is very popular in Europe, with my favourites being 10 Corso Como in Milan and Merci in the Marais district of Paris. It's a mystery why they haven't totally caught on to this concept in America, but anyway, back to Snickarbacken 7.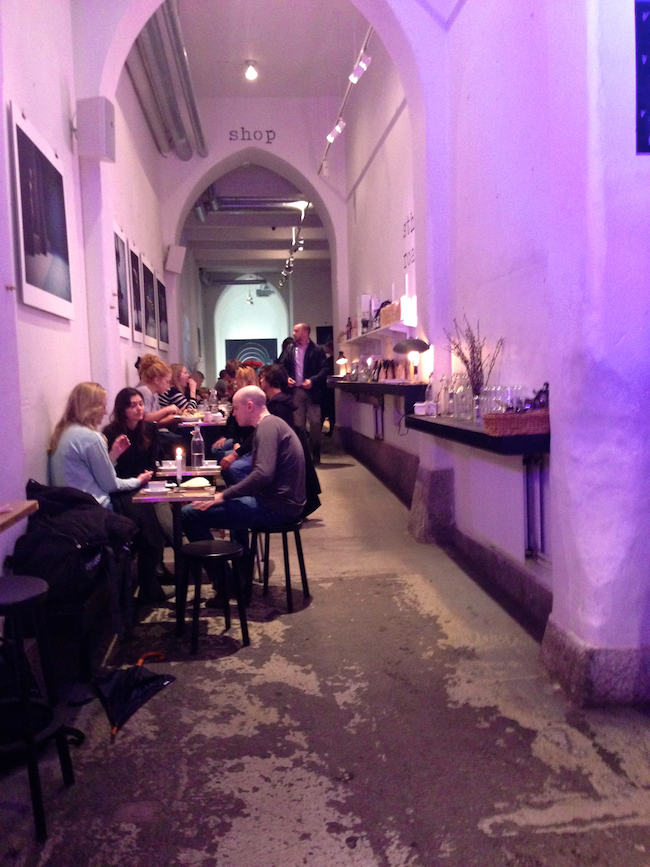 I was delighted to find out they served a fabulous filter coffee, something that is very popular in Stockholm and nearly impossible to find in London and Paris. They have a menu that changes seasonally and includes things like fennel soup, club sandwiches, avocado on grilled toast and dozens of sweets from pastries and tarts to cakes and biscuits.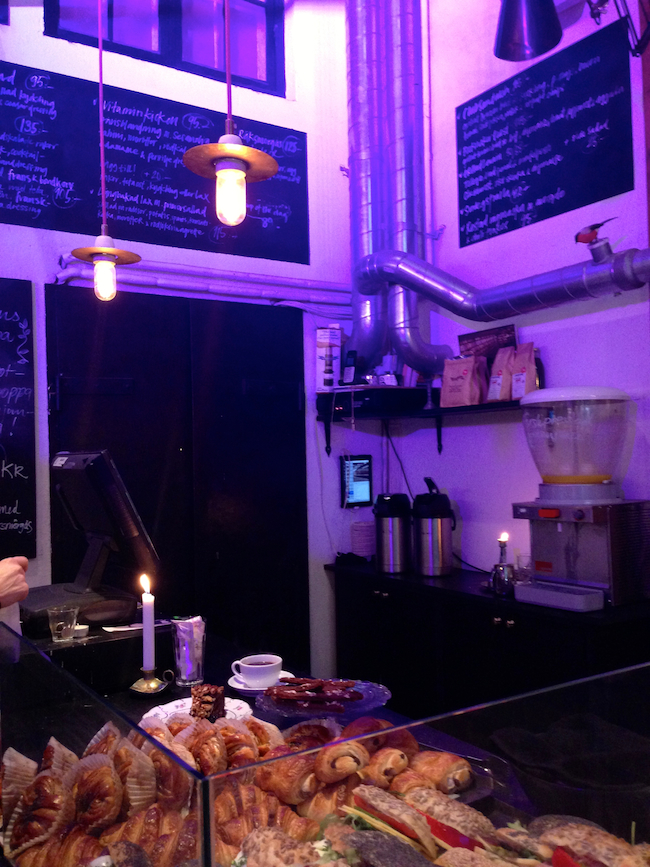 First things first, I had to get one of my favourite pastries – Swedish Cardamom Buns, known here as kardemummabullar. These beauties were generously spiced, subtly sweet and boast a shiny finish. The pastry is intricately twisted and knotted, and once baked, is crisp and light on the outside and soft and moist–almost to the point of sticky–inside. The distinct flavour of cardamom is apparent throughout, so if you don't care for cardamom obviously you won't like these buns, but if you do they are simply divine. Like most pastries in Sweden, they are not overly sweet, but just sweet enough. It is very hard to find these outside of Sweden, but I did encounter one once at the Monocle Cafe in London. Sadly, Monocle's paled in comparison to the ones I had in Sweden.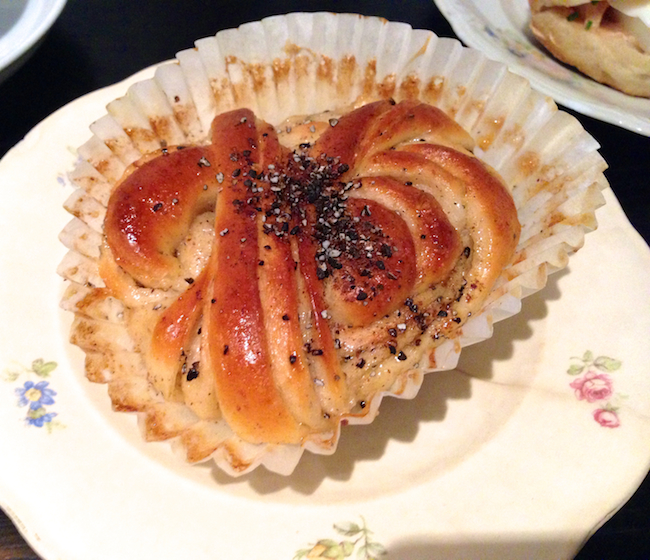 Then, just because I was intrigued, I tried a Chokladsnitt, a delicately thin chocolate slice covered in pearl sugar. This traditional Swedish cookie was a revelation – it was light, yet deeply chocolately, with plenty of crunch and that essential "snap" they always go on about on The Great British Bake Off. It's the perfection companion to coffee and a delightful little snack. I am definitely going to find a recipe for Chokladsnittar (plural) and make them at home very soon!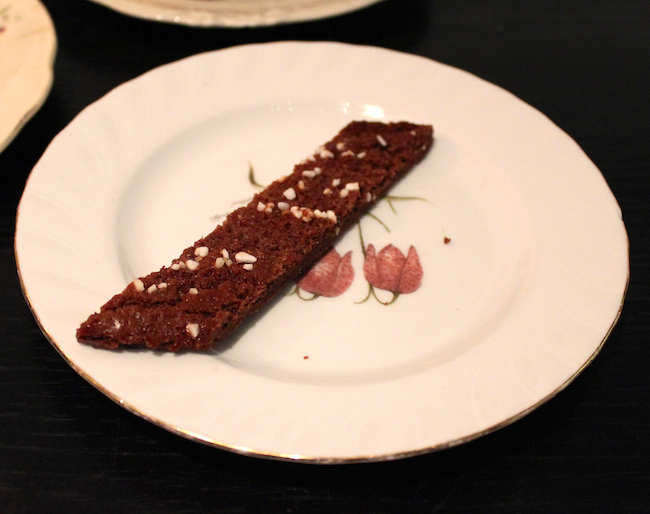 My husband tried one of the savory sandwiches – egg, caviar mousse, and chopped fresh chives on a seeded, crusty roll. It was jus the right size for a snack and very tasty.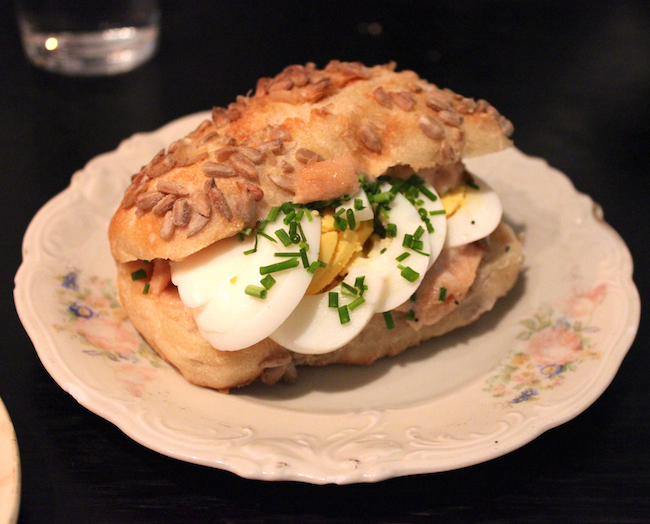 As you can see below, there are dozens of delicious-looking sandwiches to chose from, so making a selection is not easy!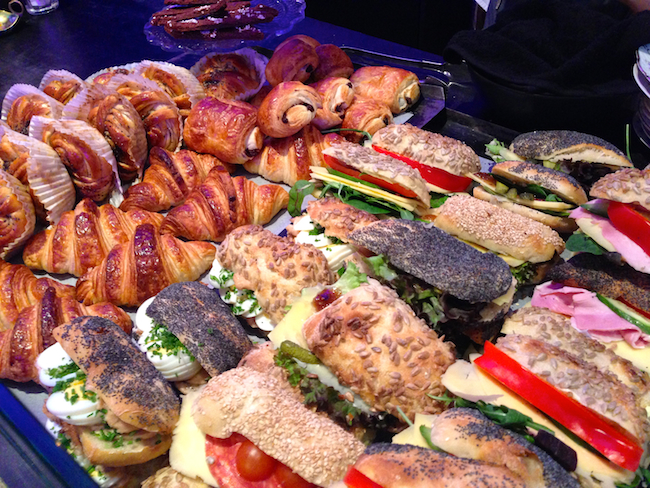 If I lived in Stockholm, there is no doubt I'd make a habit of hanging out at Snickarbacken 7. If you are in the area, definitely stop by for a cup of coffee and a hearty snack.