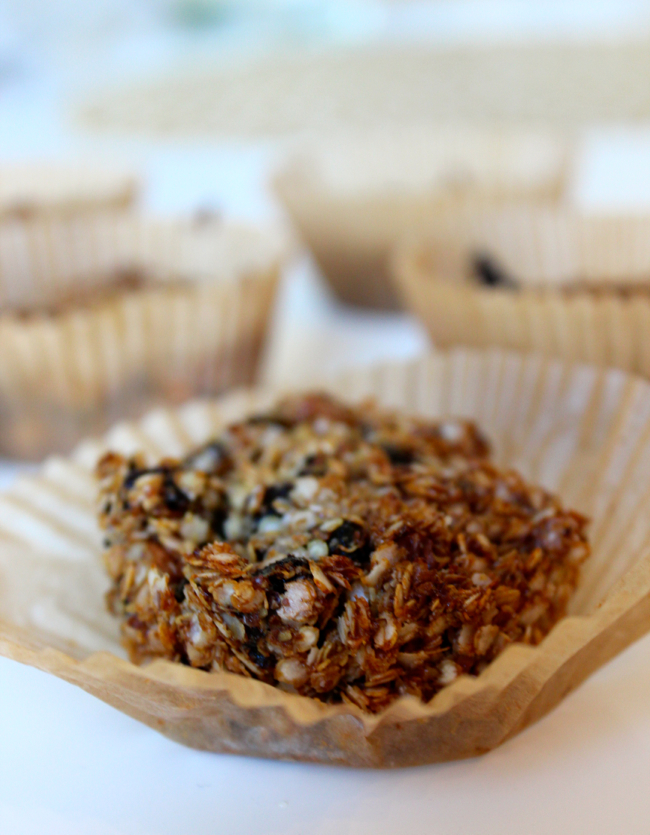 I recently picked up Gwyneth Paltrow's book, It's All Good, and, in short — I'm obsessed. I have tried 6+ recipes within the last few days and all have been fantastic. Having said that, I do not think I've ever seen so many different opinions on a mere cookbook – some people love it, some despise it and want to blog about it constantly. I really like her style of cooking. She advocates clean eating and tries to cook with healthy, natural ingredients including lots of fruits, vegetables, natural sweeteners and "good for you" grains. It's a concept I could get very used to and, with recipes like these, I think anyone would enjoy them regardless of the obvious health benefits.
Yesterday I decided to make Gwyneth's "Bummer Bars," which are a healthy form of a granola bar made instead with quinoa flakes, ground flaxseeds, prunes, walnuts, maple syrup, olive oil and plenty of warm spices. In the book, Gwyneth explained that the name "Bummer Bars" came from a bakery called "Treat Street" in Los Angeles, who created these bars as one of their vegan offerings amidst a sea of indulgent full-fat, flour and sugar-filled treats. A friend of hers "lovingly" coined them "bummer bars" and the name stuck. Having baked them I can honestly tell you that there is nothing that is a bummer about them – they are so good!
I particularly liked the idea of making the "bars" in individual portions rather than one big batch since it is easier to not eat the whole batch all at once (usually) and, perhaps most importantly, each portion has its own crispy edges which everyone loves. So, I baked them in a regular 12-cup muffin tin, which worked out great.
The bars were delicious – crispy all over, spicy and crunchy. They held together very well which is always a concern with "healthier" granola bars. The quinoa flakes, which added lots of protein, offered a unique, almost nutty, taste that was a welcome change from the usual bland oats used to make granola bars. I imagine you could substitute your favourite dried fruit and nuts for the prunes and walnuts, but I actually really liked how this combination worked with the *real* maple syrup, so I highly recommend trying it out just like this. Check out all of the steps below. Enjoy!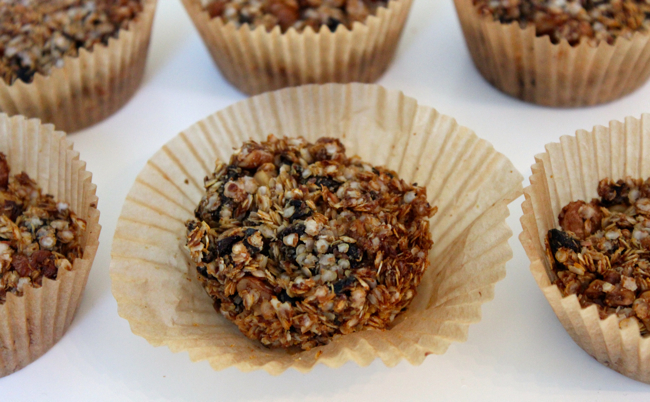 Bummer Bars
Recipe from It's All Good by Gwyneth Paltrow and Julia Turshen
Makes 12 pieces
Ingredients
1 1/2 cups quinoa flakes
1/4 cup ground flaxseeds (not whole seeds!)
A pinch of fine sea salt
1/4 teaspoon ground cinnamon
1/4 teaspoon ground nutmeg
1/2 teaspoon ground ginger
1/4 cup extra virgin olive oil
1/4 cup good-quality maple syrup
2 tablespoons brown rice syrup (or honey or agave if you can't find brown rice syrup)
1/2 cup chopped prunes (preferred) or apricots
1/2 cup chopped walnuts (which I used) or pecans
Here are my ingredients. I was delighted to find real 100% natural maple syrup here in the UK, in the traditional glass container – there is nothing like it! Also, I'm on this kick of using whole nutmeg (grated with a microplane) instead than regular pre-ground nutmeg – the flavor makes a world of difference. The quinoa flakes and milled (ground) flaxseed are 2 great things to have on hand as well – you can make a protein-filled porridge with the quinoa flakes, and the milled flaxseed is great to add to smoothies, yogurt and salads, just to name a few.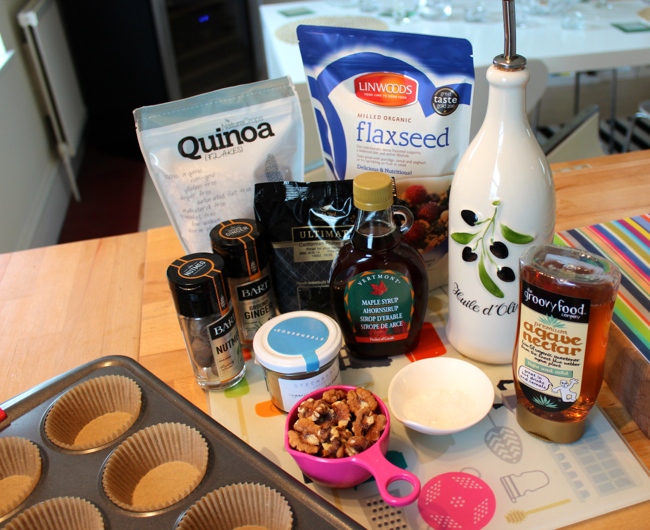 Directions
Preheat the oven to 350 F / 175 C. Line a 12-cup muffin tin with paper liners.
Combine all the ingredients in a large bowl (so easy!).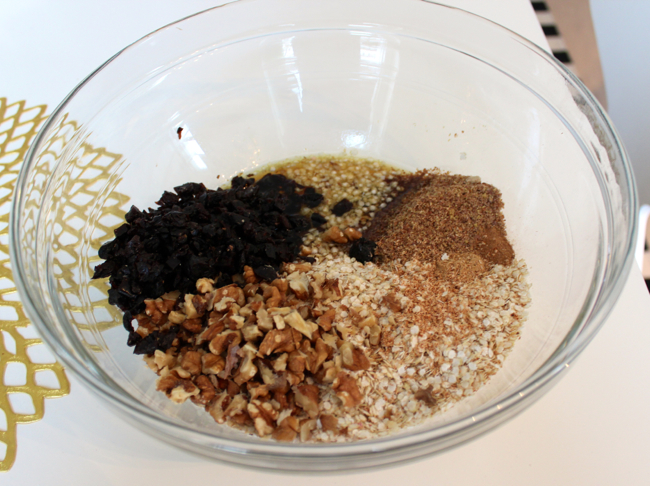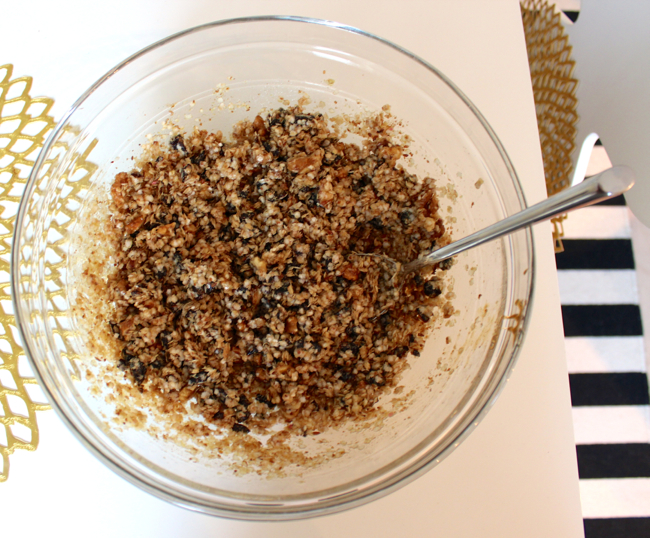 Then, evenly divide the mixture among the muffin cups.
Pack the mixture down with a rubber spatula.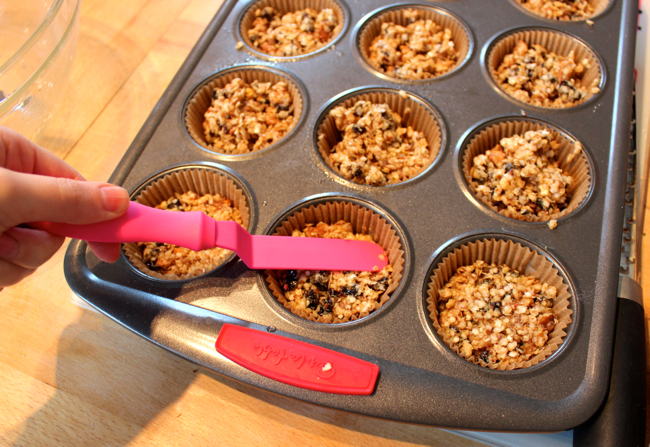 Bake for 30-35 minutes, or until the bars have firmed up and are golden brown.
Let cool completely before removing from the pan or muffin cups. The cooling process really allows them to firm up and makes it much easier to release them from the paper liners.
Serve once colled or store in an airtight container (if they last that long).